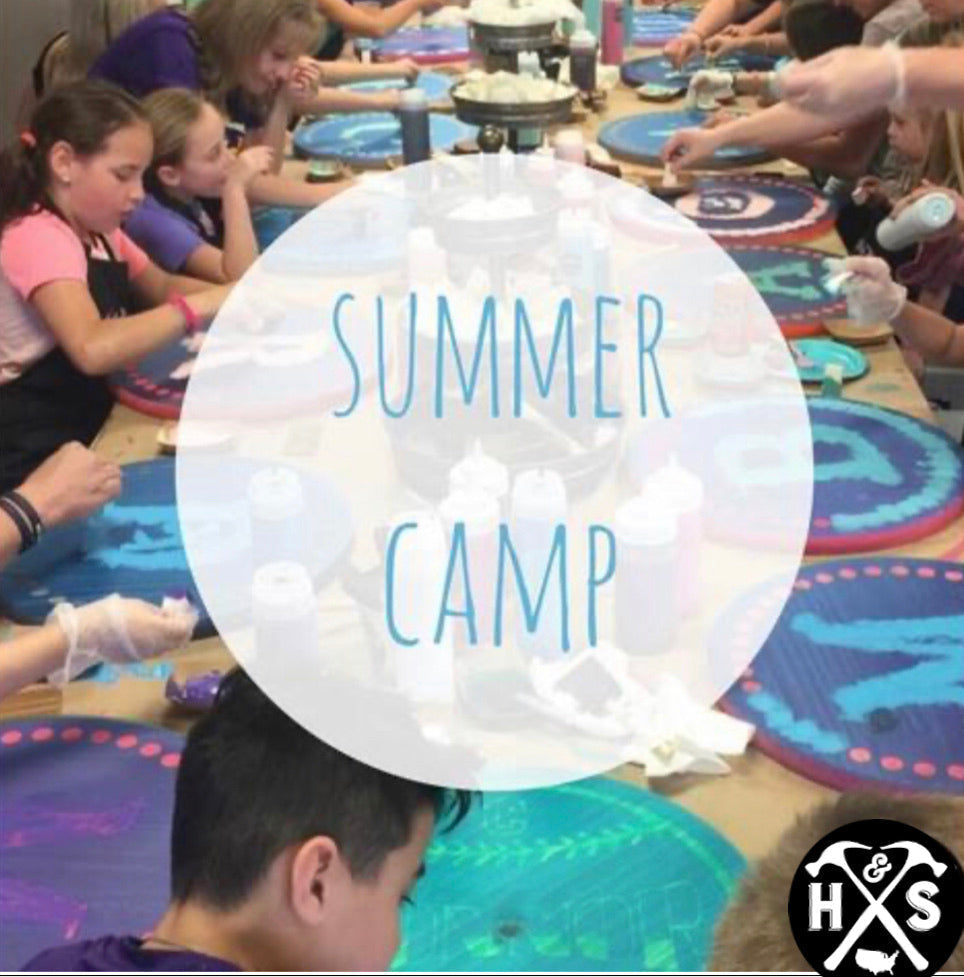 July 31-08/03 - 1:00 to 12:00 pm KIDS CRAFT CAMP
Join us for a spectacular Day of crafting and painting at Hammer and Stain Overland Park. We've got tons of exciting projects planned!!
Ages 6-12 Welcome!
Our staff of highly qualified, crafty educators will guide your camper through each new project, making the experience both easy and fun!! Projects are personalized for every individual, thereby creating a piece they are sure to love and be proud of!
FREQUENTLY ASKED QUESTIONS:
Should my camper bring a snack? We happily allow your camper to bring their favorite snacks and drinks to the studio.
Do I need to be present during pick-up and drop-off? We ask that you sign your camper in and out of camp daily. If your camper wishes to ride their bike or walk to and from home, we ask that you provide us with a signed letter prior to the camper's first day of camp.  
Do you do a different project each day? Yes! We engage in a new activity daily. 
Can I wait until the last minute to register my camper? In order to ensure an enjoyable experience for your camper and to keep a low student to teacher ratio, we limit the number of seats available in our summer camps to 6 campers. So, we recommend that you register your camper ASAP.  All registration is done online and will close at least 7 days prior to the class. 

PLEASE NOTE * Camp is Monday-Thursday 

HOW TO REGISTER:
1. Enter the required contact and camper information. 
2. Agree to the terms. 
3. Proceed with checkout.
 WE LOOK FORWARD TO MEETING YOU!! 
Regular price $190.00 Sale
Terms
Once your order has been submitted we are immediately beginning the process of production of your personalized stencil. If you would like to cancel your reservation, you must give a minimum of 48 hour notice. Please note a restocking fee of 30% of the total amount of the workshop will be deducted from your refund. Same day cancellations or no-shows will not be eligible for a refund. Cancellations will be processed on the day we receive your cancellation request. It may take up to 2 weeks for the refund to return to the account you used to purchase your items. Hammer & Stain reserves the right to make any amendments to this policy at any time. Notification of any changes will be published on this page. If you have any inquiries regarding cancellations or any of our other policies please contact us.